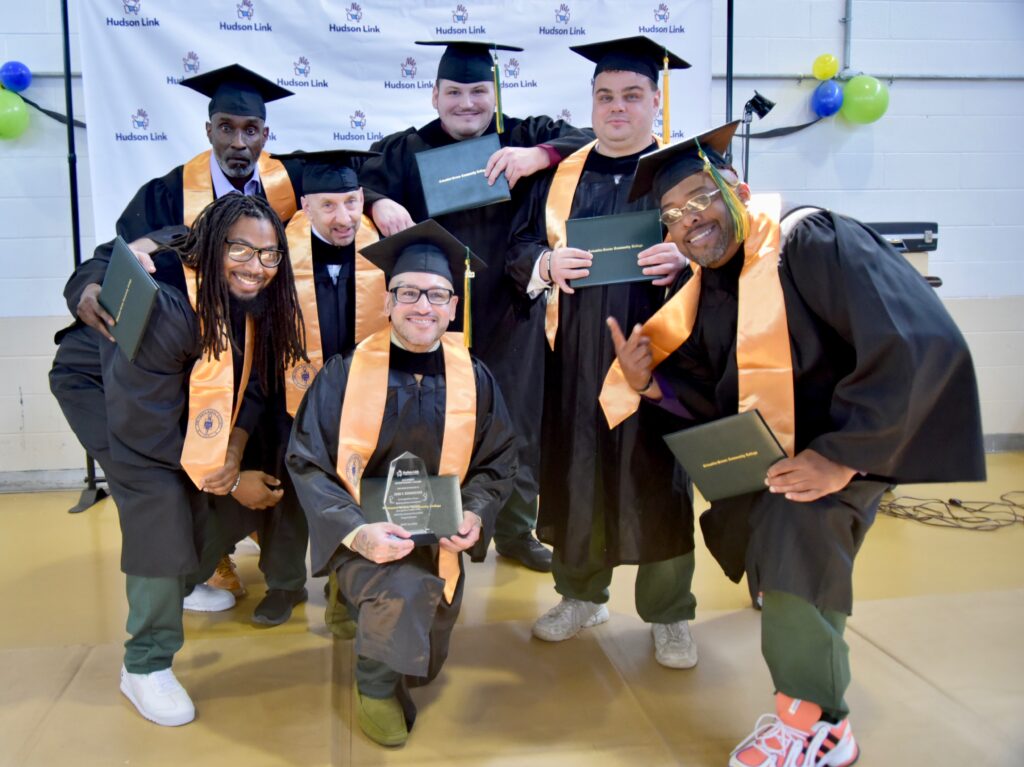 On Wednesday, May 10th, 2023, Hudson Link for Higher Education in Prison and Columbia-Greene Community College hosted their inaugural commencement ceremony at Green Haven Correctional Facility. After launching the program in January 2022, the first seven graduates walked across the stage, earning their associate degrees in Individual Studies.
Hudson Link for Higher Education in Prison was formed in January 1998 to address the fundamental lack of access and opportunity available to people looking to use the transformative power of higher education to change their lives during and after their involvement with the justice system. Twenty-five years later, the organization will be awarding its 1,000th degree this year and continues to provide college education, life skills, and transitional services to currently and formerly incarcerated people, equipping them for greater economic and social success. The Green Haven Correctional Facility program is the most recent addition to the organization's robust college programming.
Joel Jimenez, Hudson Link Program Director, who launched the expansion into Hudson Link's sixth program site at Green Haven Correctional Facility, shared, "Green Haven has always been close to my heart because I spent eight years of my incarceration in that facility. I remember hoping to transfer to a facility like Sing Sing where Hudson Link was operating a college program, one of the few in the state. When I became Program Director at Hudson Link, I set a goal to open a college program available to an entire population, because I wanted the men at Green Haven to have the opportunity I did not have when I was there. Education is one of the great equalizers an incarcerated person could have, and so, I am super excited to attend this graduation only 18 months since we opened the program."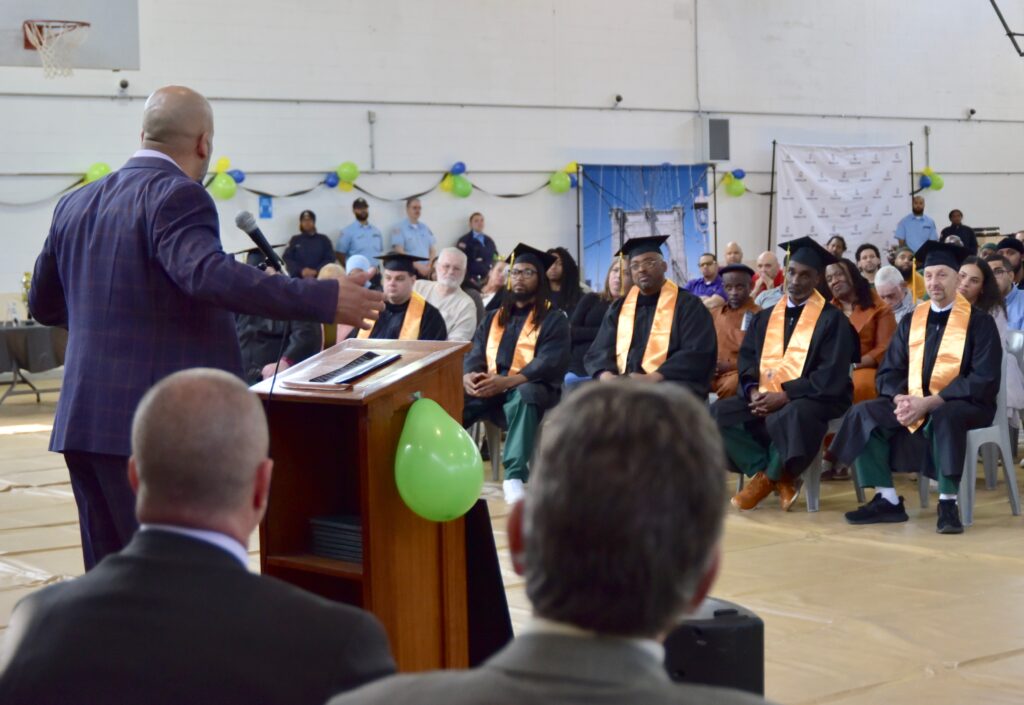 Bryonn Bain, a Tony-nominated theatermaker, gave a moving keynote speech. Bain has sold-out performances on three continents, from the legendary Apollo Theater to Lincoln Center and Carnegie Hall, and will be the first person to live stream a Broadway show, "Lyrics from Lockdown," to prisons nationwide later this year.
Bain's speech was in honor of the graduating students and two of his teachers, Eddie Ellis and Harry Belafonte, both leaders in the prison reform movement. Ellis, who served 25 years in the New York State Department of Corrections, including Green Haven Correctional Facility, was a pioneer and a champion in advancing the personhood of currently and formerly incarcerated people. Bain's speech was also dedicated to his former executive producer, the renowned singer, actor, and activist Harry Belafonte, who passed away just two weeks prior to the graduation. Belafonte was a longtime and ardent supporter of Hudson Link. Bain reminded the crowd that Belafonte's legacy will be carried on, sharing Belafonte's own words, "My teachers were W.E.B. Dubois and Paul Robeson. Their teachers were Harriet Tubman and Frederick Douglass. So, what I share with you is in that line, in that tradition."
Adding onto the sentiment of legacies, the Columbia-Greene Community College Valedictorian at Green Haven, Jose Rodriguez, shared, "I want to say that I didn't do this just for me. I did this for all those that I've hurt by my past actions. I did this for my family, who continue to love me unconditionally and continue to be supportive. I did this for the man I call "Dad," even though you're not here, I know you're still watching. I kept my promise. I told you I'd get this. And most importantly, I did this for my boys—my sons. You are my greatest achievement and greatest inspiration. I know I've let you down, but I'm picking up the pieces. Your Papi is making it happen, and it doesn't stop here."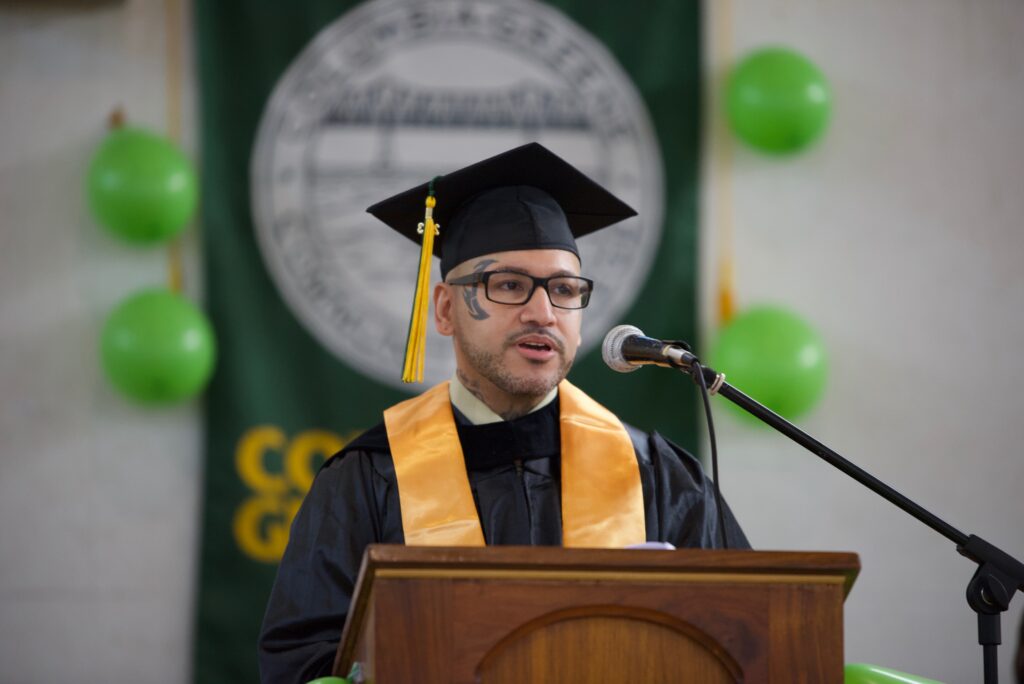 Dr. Carlee Drummer, President of Columbia-Greene Community College, stated, "The impact of education extends well beyond the walls of a prison. Columbia-Greene celebrates our first graduations at Green Haven to earn a college degree. Their willingness and motivation to learn, resolute perseverance, and commitment to change their lives indeed is commendable, and we encourage them to continue their educational journeys."
The program could not be done without collaboration from the administration at Green Haven Correctional Facility, and as Superintendent Mark Miller stated, "I could not be more proud to have a part in the first Hudson Link graduation at Green Haven. I have seen first-hand the positive results this program has on the graduate, and ripple effect on the population. This success goes beyond these walls with the established 3% recidivism rate of those graduates who have been released."
Deputy Superintendent of Programs Amanda Demshick, went on to say, "Hudson Link's impact on higher education has been transformative, both inside and outside of prison. The program has opened doors for incarcerated individuals to access college courses and earn degrees, providing them with valuable skills and knowledge that can help them succeed upon release. I consider it an honor to be a part of the first Hudson Link graduation at Green Haven C.F. and something that has such a profound effect on people's lives."