Kiki Dunston, having thrived, persisted, and led with love as our Alumni Coordinator for the past three years, has been promoted to Hudson Link's inaugural Community Engagement Manager! 
As our alumni population continues to grow and other parts of our organization start to evolve and change in response to the shifting landscape of higher education in prison, we continue to think strategically about how the shape of our staff can best work for the interests of the people we serve.
As Community Engagement Manager, Kiki will continue to build relationships with Hudson Link students and alumni to understand their interests and concerns, and prepare them through training and workshops to use their voices in a legislative and advocacy capacity. 
Kiki will work with our Strategic Initiatives Department to implement our student-driven policy agenda process, ensuring that all of our work is informed and directed by the voices of those we serve.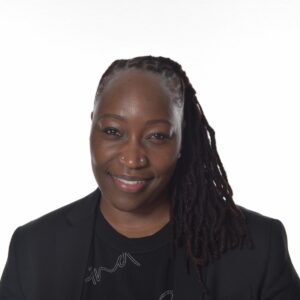 Kiki will also use her excellent relationship-building skills to expand the Hudson Link family, engaging community members to leverage their resources to benefit our organization, as well as building and managing a formal Hudson Link volunteer program.
And she will continue to coordinate alumni gatherings, which sit at the heart of our alumni community, and manage the boutique, which has thrived under her leadership for the last three years. Congratulations on the well-deserved promotion, Kiki!