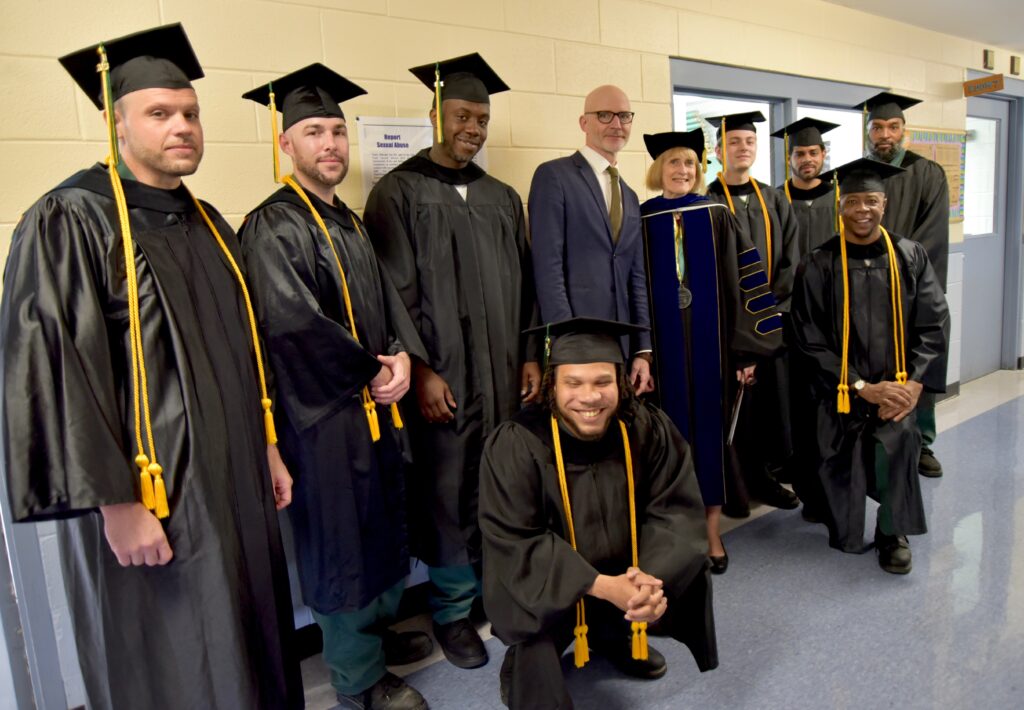 Coxsackie, New York – On Wednesday, May 24th, 2023, Hudson Link for Higher Education in Prison and Columbia-Greene Community College hosted a commencement ceremony at Greene Correctional Facility for eight students earning their associate degrees in Individual Studies.
Hudson Link for Higher Education in Prison was formed in January 1998 to address the fundamental lack of access and opportunity available to people looking to use the transformative power of higher education to change their lives during and after their involvement with the justice system. Twenty-five years later, the organization will be awarding its 1,000th degree this year and continues to provide college education, life skills, and transitional services to currently and formerly incarcerated people, equipping them for more tremendous economic and social success.
This graduation marks the largest graduation at Greene Correctional Facility since the start of the pandemic, signaling a rebound in program enrollment and completion. Five of the students completing their degrees will be graduating with honors as members of Phi Theta Kapp. One student Liam, who earned high honors, shared, "The person I stand, think, and breathe as today starkly contrasts who I was. Furthering my education has played a crucial role in that transformation, and I'm extremely grateful for the opportunities afforded me along the way to do so."
"This group of graduates is nothing short of incredible. Just witnessing the ceremony alone, the graduate speakers had me laughing and crying, a testament to the depth of creativity, knowledge, and dedication they demonstrated throughout their studies. We cannot wait to see all the good this graduating class does during the next chapter of their lives," said Sean Pica, Hudson Link's Executive Director.
"Columbia-Greene Community College is proud to be a partner in the Hudson Link network," commented Dr. Carlee Drummer, President. "Year after year, the College provides educational opportunities for incarcerated individuals seeking to improve their lives. Columbia-Greene salutes this year's Greene Correctional Facility graduates whose motivation and commitment to learning underscores the Hudson Link mission of helping students to 'grow in the ways they identify for themselves, not in ways we identify for them.'"