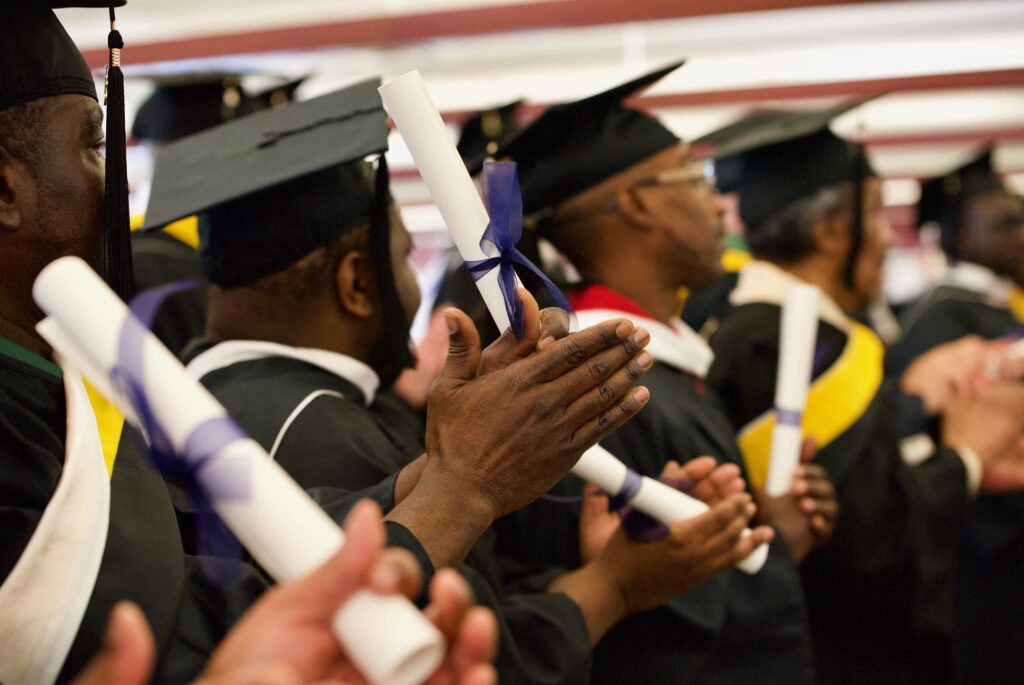 Ossining, New York – On Wednesday, June 7th, 2023, Hudson Link for Higher Education in Prison and Mercy College hosted a commencement ceremony at Sing Sing Correctional Facility for 17 graduates with an associate degree in Liberal Science and 11 with a bachelor's degree in Behavioral Science. This graduation ceremony also marks the 1000th degree awarded by Hudson Link for Higher Education in Prison over its twenty-five-year history.
"I stand here as a proud man, husband, father, uncle, son, friend, and now the valedictorian of the class of 2023. My graduating class battled COVID, facility lockdowns, and the everyday stresses of life in prison while making it to class every night, but we made it through," shared Michael H., the 2023 class valedictorian. "We overcame all adversities just to be here today. It was all worth it. This is just one of the many ways we will show the world we are worth more than our worst mistakes. Education was the first step to redemption. It's now time to apply what we learned."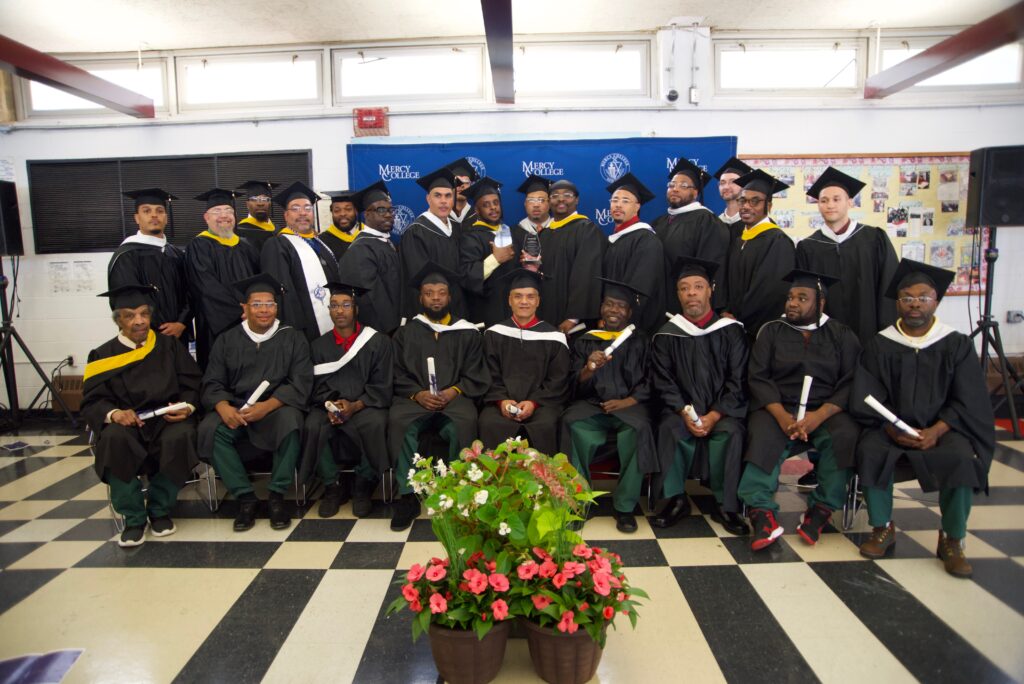 Hudson Link for Higher Education in Prison was formed in January 1998 to address the fundamental lack of access and opportunity available to people looking to use the transformative power of higher education to change their lives during and after their involvement with the justice system. Twenty-five years and 1,000 degrees later, the organization continues to provide college education, life skills, and transitional services to currently and formerly incarcerated people, equipping them for greater economic and social success.
"Mercy College has built a reputation for helping our students break the barriers which stand in their way of earning a degree, and we're proud to have that transformative education extend to the prison population at Sing Sing," said Tim Hall, president of Mercy College. "This program with Hudson Link for Higher Education in Prison is incredibly special to Mercy and to the faculty who travel to the prison to teach. We watch them grow intellectually beyond what they might have imagined for themselves, and then we watch them graduate; seeing the students with degrees in hand is one of the most powerful commencement moments for us each year."
"I was in the conversations that helped to start Hudson Link twenty-five years ago here at Sing Sing Correctional Facility and was in our first graduating class. It has been unbelievable to see how far we've grown as an organization and witness the incredible work our alumni have gone to do in their communities. I am super excited to be hosting this graduation with Mercy College, our partners at the New York State Department of Corrections, and being part of history by helping to award over 1,000 degrees to Hudson Link students," stated Sean Pica, Executive Director.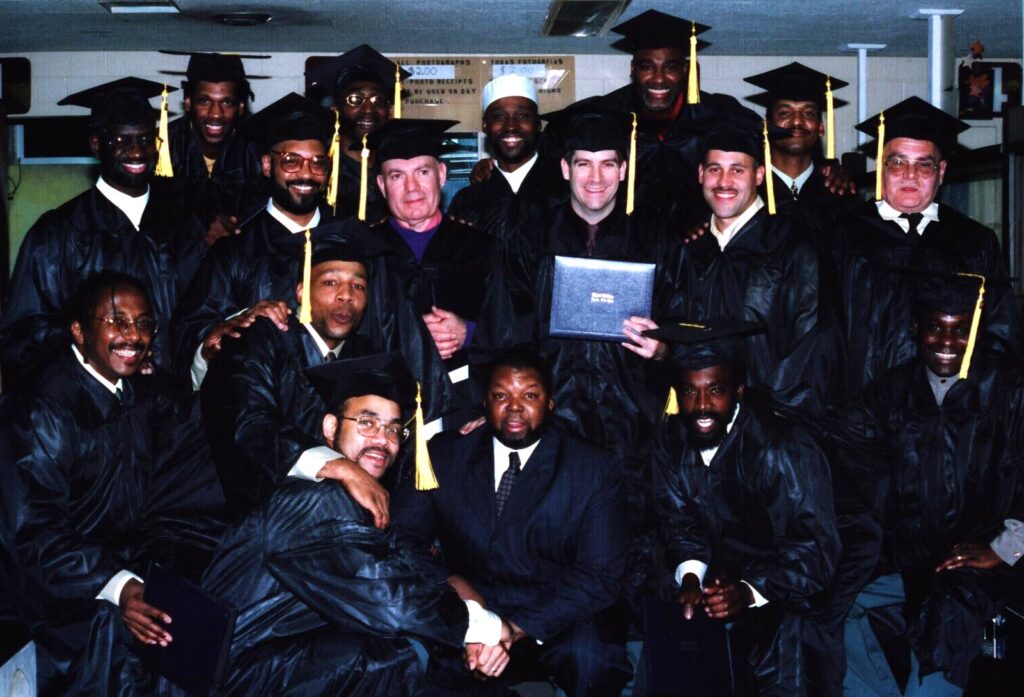 Joel Jimenez, Hudson Link Program Director, who oversees Hudson Link's academic programming across all six program sites, shared, "Sing Sing has always been close to my heart because I spent six years of my incarceration in that facility, earning both my associate and bachelor's degree, as well as coordinating the Sing Sing site when returning home. Looking back at my transformation and the lives of so many of our alumni over the years, I firmly believe that education is one of the great equalizers an incarcerated person could have. I want all our students to know that their dreams and goals don't end here."
The day's keynote speaker, Jon-Adrian Velazquez, also a graduate of the Hudson Link program and New York State Program Director of the Fredrick Douglass Project, addressed the audience with a feeling of pride, "When I left prison 21 months ago, I had no idea where my life would be, but right now, I wouldn't change it for anything. In that time, I went from the big house to the White House to meet with the president. Hudson Link is a home base when you're released and has taught us not to give up on ourselves. You will all be successful if you want it."  
The program could not be done without collaboration from the administration at Sing Sing Correctional Facility. Superintendent Michael Capra stated, "As I prepare for my retirement after 42 years with the Department of Corrections, there is no better way to celebrate the collective work we've been able to accomplish with Hudson Link for Higher Education in Prison and Mercy College than with awarding the 1000th degree at the site where it was launched 25 years ago. Over the last 11 years as Superintendent at Sing Sing, I've watched the men not only dream but take action in changing their lives through education, as well as paying that forward by launching incredible events and programs. I couldn't be prouder of today's graduates and everyone who helped to provide this life-enriching opportunity."