Hudson Link/Nyack College hosts the first commencement ceremony at Sing Sing Correctional Facility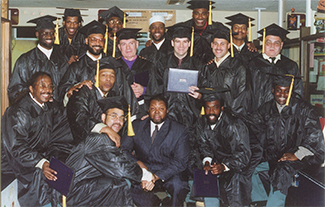 The sounds of a violin concerto ushered in 17 students who marched proudly through the visiting room at Sing Sing in celebration of Hudson Link's first-ever college graduation ceremony on October 19, 2001.
The graduates received their Bachelor's degrees in Organizational Management from Nyack College as family, friends, and supporters looked on with pride.
Nyack College President David Schroeder spoke proudly about the graduates' accomplishments and the tremendous transformation that had taken place inside the prison walls. Hudson Link remains grateful to Nyack College as its founding and stalwart college partner.
Hudson Link formed a second partnership with Mercy College shortly after the first Nyack College graduation, and the first group of Mercy students were on their way to achieving an Associate's degree in Behavioral Science.