Hudson Link expands to Taconic Correctional Facility for women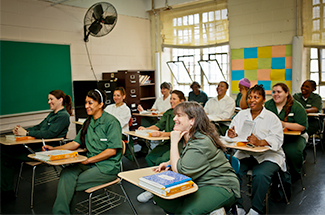 For the first time ever, Hudson Link expands college programming to a medium security women's correctional facility.
Partnering with Mercy, Nyack and Vassar Colleges, Hudson Link offers college preparatory and college classes as well as the Inside Out College Program at the Taconic Correctional Facility. This unique program starts with pre-college Math and English classes to prepare students for the challenges of a college-level curriculum. Once completed, students attend lower and upper-level college classes which fit requirements for an Associate's degree in Liberal Arts. The goal is for the women to have completed approximately 30 college credits upon release from prison so they have a solid foundation to complete their degrees on the outside.