Hudson Link forms Alumni Youth Assistance Program to speak to young people about choices and the consequences of criminal behavior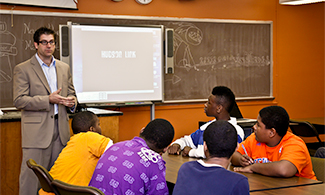 Hudson Link and its alumni partner with residential programs, middle and high schools in Westchester County, New York City and the five boroughs to speak with young people about the consequences of their choices and criminal behavior. This innovative program brings alumni who have been released from prison into the classroom, where they also screen Hudson Link's documentary Zero Percent to help break the cycle of incarceration and prevent youth from entering the juvenile and criminal justice system.
Hudson Link alumni engage in interactive discussions with youth on topics which include: who they were as people before they were incarcerated, what they believed about themselves and their futures, the struggles of peer and gang pressure, the pressure to survive in adverse conditions, the consequences of poor choices and the power of education and how it transformed their lives.