Hudson Link starts College Preparatory Program at Sing Sing Correctional Facility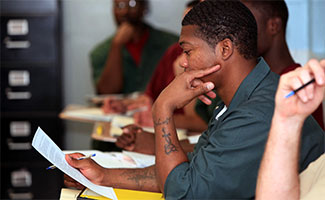 Recognizing that many new students are unprepared for college-level work and struggle in the first semester of college, Hudson Link launches a College Preparatory School at Sing Sing Correctional Facility to prepare students for the rigors of college coursework.
Prep school is an intensive one-year, six-course program with classes held Monday through Friday. The curriculum is focused on remedial Math and English, Sociology, History, Current Events, study skills, and time management. More than 200 applicants apply and 26 are selected to participate in the first cohort.