Hudson Link/Mercy College hosts their first commencement ceremony at Sing Sing Correctional Facility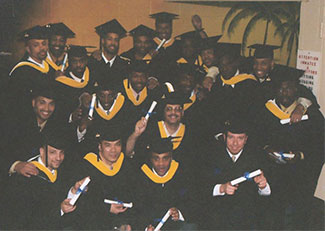 With a flutist playing in the background and in front of a room full of family members and friends, 23 students at Sing Sing received their Associate's and Bachelor's degrees in Behavioral Science from Hudson Link/Mercy College. Venerable actor Ossie Davis delivered the commencement address and referred to the graduates as his sons, saying that he "felt like a proud father." Superintendent Brian Fischer delivered the keynote speech and spoke about the graduates' personal commitment to transformation. "Each and every one of them realized that they could not change the past, but could change the future," Fischer said.
Using sign language to begin his address, Class of 2004 Valedictorian Nigel Lawrence said, "Education has changed our world…and language has a purpose, language has power, language builds bridges, connects lives, transcends boundaries and invades silence." Nigel's speech resonated with the graduates and the audience, giving powerful testimony to the transformation that takes place through the power of higher education.