History in the Making: Congratulations to the First Ever Class of Graduates at Taconic
Wednesday, January 24th marked a groundbreaking moment in Hudson Link's history, when associate degrees were awarded to six of our students inside Taconic Correctional Facility.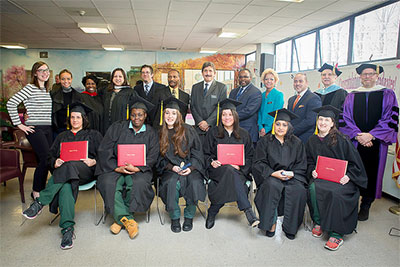 Friends and family of the graduates gathered to celebrate along with representatives from the Department of Corrections and Community Supervision. Acting Commissioner Anthony Annucci, Taconic Superintendent Tanya Mitchell-Voyd, and Director of Education Emily Bessette each shared words of wisdom and expressions of heartfelt congratulations on the students' achievements.
The day's keynote address was delivered by Starshell, a Grammy-winning singer/songwriter who has collaborated with the likes of Kanye West and Jennifer Lopez. She wished the graduates a "happy birthday," likening their achievement to a rebirth and encouraging the women to look forward to their future achievements as if it was their first day on earth.
The ceremony also marked the first time that one of the six grads had returned to Taconic since her release. Now home, Shelly said she couldn't miss the opportunity to walk with her Hudson Link class. "This experience was amazing," she told Alumni Coordinator Todd Young after being greeted with hugs and smiles by classmates and Taconic staff alike. "To know that I had the courage to go back in, I'm so proud of myself and how far I've come. Hudson Link gives me the motivation to keep on striving. This is not the end for me and I will not stop here. My daughter was so proud of me!"
Hudson Link's staff and board share these sentiments – in fact, we could not be prouder of the six graduates and the 37 women still pursuing their degrees with us at Taconic.