Hudson Link expands to Fishkill Correctional Facility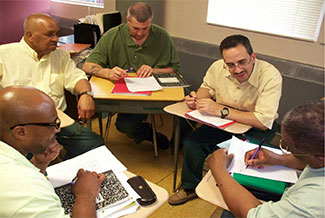 Nyack College partners with Hudson Link to sponsor a Bachelor's degree in Organizational Management at the medium-security Fishkill Correctional Facility for men.
This progressive program provides a fast-track for students to complete their college degrees in 18 months, and a unique pathway for men to transition from a maximum to medium security prison and complete their Bachelor's degrees prior to release.
Students are required to have completed a minimum of 60 college credits from an accredited institution of higher learning in order to be accepted. The cohort of students attend classes 4 days per week over a period of 18 months. More than 70 men apply to the program and 17 applicants are accepted.