Sing Sing Correctional Facility hosted TEDxSingSing, an independently organized TED event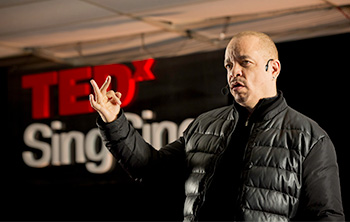 TEDxSingSing was the first TEDx event held in a New York State prison. With the theme "Creating Healthy Communities," speakers explored a variety of perspectives including individual, physical, mental, and emotional health and how to work together to build a nourishing and supportive community, even in a maximum security prison like Sing Sing. Twenty-two dynamic speakers including Ice-T, Hill Harper, Gina Belafonte, Majora Carter, Bryonn Bain, Dan Slepian, Sing Sing Superintendent Michael Capra, Carnegie Hall Musical Connections and incarcerated men at Sing Sing captivated the audience speaking about topics such as The Ambient Existence of Music, Shaping the Future from the Inside, Echoes of an Urban Desert, Creating a WE Nation, Transcending Mental Bars, and Surviving on the Inside." The event was filmed by acclaimed producer and director Jonathan Demme with assistance from the Jacob Burns' Film Center. To view TEDxSingSing videos, please click here.
TED is a global community devoted to the power of ideas to help change attitudes, lives, and ultimately, the world. The concept has become so popular in recent years that TED launched TEDx, a program that helps organizations independently organize their own events based on the TED model: A gathering of individuals to share ideas with one another in the form of a sequence of carefully curated talks on a variety of topics. Independently run TEDx events help share ideas in communities around the world.