Hudson Link's first-ever graduating class at Sullivan Correctional Facility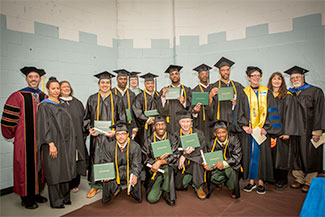 An emotional commencement ceremony is held for 12 men who graduated from the State University of New York at Sullivan with an Associates degree in Liberal Arts. Speakers include Kathleen "Kitty" Vetter, Sullivan County Legislator and Eugene "Gene" Benson, Sullivan County Legislator, both of whom were visiting the facility for the first time.
The graduates completed the program in just two and a half years, record time for a program within a correction facility. All the men graduated with honors and the SUNY Sullivan staff was extremely impressed by their success and dedication to the program, which was a hallmark of the cohort. Together they maintained a supply of water bottles to ensure that professors were properly hydrated and created a student advisory committee to promote the program to the men at the facility. They also offered tutoring sessions on Saturdays and Sundays in the yard to make sure the men of Cohort 2 successfully completed their college preparation courses. The personal transformation of the men was also noticed by the corrections officers, who were impressed by the leadership skills the students in the program exhibited.
The students' success and hard work in promoting the Hudson Link college program to others created a waiting list of over 25 prospective students for Cohort IV.