World premiere of the Hudson Link documentary Zero Percent at the Dallas International Film Festival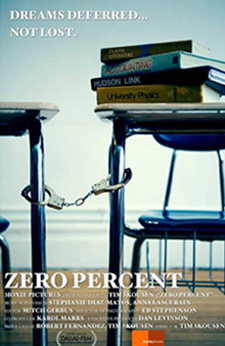 With Zero Percent, Moxie Pictures Director Tim Skousen goes inside Hudson Link's college program at Sing Sing. Hudson Link students are men who have come to appreciate the full impact of their life-altering crimes, on others and themselves. And while it may be years before these men see life outside the prison walls, they know their only hope for a productive, redeemed life is through sheer determination to transform their lives for the better.
The driving force behind Hudson Link's success is the men and women who were once incarcerated themselves – people with first-hand experience on the impact of mental and emotional rehabilitation on their lives, their families and their communities.
The film's title, Zero Percent, refers to the fact that not a single Hudson Link graduate has been re-incarcerated for a new crime within 3 years of release from prison. With a national recidivism rate of over 60%, "Zero Percent" provides real-life evidence of the far-reaching positive effects of the Hudson Link program.
Director Tim Skousen and Hudson Link Executive Director Sean Pica attend the world premiere of Zero Percent at the Dallas International Film Festival (DIFF) on April 1, 2011, and participate in a panel discussion following the screening.
Zero Percent is the recipient of the first-ever Embrey Family Foundation Silver Heart Award at DIFF, honored for "their dedication to fighting injustices and creating social change for the improvement of humanity." The presenter gave the film high praise and talked about the theme of redemption and the overwhelming power of education.
Zero Percent has gone on to win many accolades from film festivals across the country, including:
Silver Heart Award at the Dallas International Film Festival
Best of Festival at the Arlington International Film Festival
Best Documentary at the BET Urbanworld, Breckenridge, Bronx, and Las Vegas Film Festivals
Audience Award at the Anthem Film Festival
Human Spirit Award at the Ojai Film Festival
Cinematography Award at the Los Angeles Reel Film Festival
Award of Excellence from The Indie