Executive Director
"Hudson Link, and college education, is not just a gift for that student, changing his life. It's a gift for the men and women who are going back to their families, back to their communities and back to the world we all live in."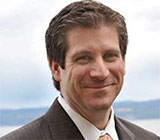 Sean Pica is one of Hudson Link's founding members and an alumnus of the Class of 2001. Facing a 24-year sentence at the age of 16, when most young people his age were about to graduate high school, Sean entered the New York State correctional system. He decided to make the most of his time behind bars by becoming the first person in his family to earn a college degree.
After serving a 16-year sentence, Sean was released from prison and joined the board of Hudson Link which he helped found while incarcerated. In 2007, Sean moved from a board position to Executive Director of the organization. During his tenure, he has grown the program from 60 students attending Nyack College at Sing Sing Correctional Facility to more than 500 students attending college preparatory and college programs annually in 6 New York State correctional facilities. He also expanded Hudson Link's services to include an Alumni Services Program which focuses on the very important work of providing re-entry support for its alumni to help them successfully transition back into their families and communities.
Sean's responsibilities as executive director include program and operations management, business development, fundraising and implementation of the organization's strategic goals and objectives.
Sean received his MPS from the New York Theological Seminary and his MSW from Hunter College. He serves on the New York State Council on Community Re-Entry and Reintegration; is a founding member and serves on the Board of Directors for the National Alliance for Higher Education in Prison which focuses on public awareness, advocacy and policy reform, programmatic support, research and data and resources and information sharing; was a founding member of the New York State Consortium for Higher Education in Prison; and serves on the Board of Directors for Sing Sing Prison Museum.