Rosemarie Murray
Director Emeritus
"My sincere hope is that Hudson Link will continue to expand and will lead the effort to change minds and hearts regarding education in prison."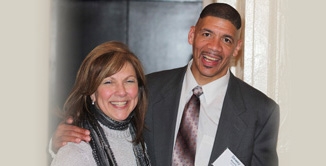 Rosemarie Murray is one of the original Board Members of Hudson Link, which was founded during her tenure as Dean of Students at Mercy College.
"Hudson Link's greatest strength is the commitment of all of our stakeholders: the students, professors, staff, board, DOC's and our supporters. They have all contributed to the effort to change lives and thereby change our world. We are united in our belief that individuals can be transformed through education. These people make the necessary sacrifices and have the resiliency to return to the mission no matter how difficult the challenges we face."
Ms. Murray is an Assistant Professor of Literature, Language, and Communication at Mercy College. She served as Vice President of the Hudson Link Board of Directors for two terms and has had the pleasure of teaching literature courses at Sing Sing on several occasions. For several years she was also a member of the Board of Providence House, an organization that provides transitional and supportive housing for women released from prison so they can begin their new lives with their children.
In 2009, after meeting young people with spinal cord injuries who are institutionalized in nursing home for the elderly, Ms. Murray resolved to help make appropriate housing available for this large group of forgotten—even "invisible"— individuals; hence, she helped found Wheels of Progress, a nonprofit organization.
"My sincere hope is that Hudson Link will continue to expand to other correctional facilities and will lead the effort to change minds and hearts regarding incarcerated people who desire to become educated so that they can make a difference while incarcerated and after they are released."