John Minks
Board Member
"My hope for Hudson Link is to maintain its clarity of purpose and unwavering commitment to the students as we expand to additional correctional facilities."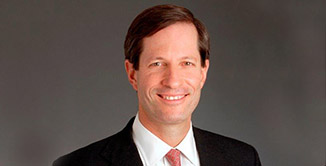 John Minks has been a board member of Hudson Link since 2010, and has served on the Development, Communications, and Governance Committees. He is also active on his church board, where he has been a Warden and Vestry member the last six years. He has led the Outreach Committee for a number of years at his church and is passionate about mentoring and helping people achieve their potential.
Professionally, Mr. Minks is an International Director with Jones Lang LaSalle, an international real estate services and investment company, where he has held a variety of management and leadership roles during his 24 years with the Firm. Mr. Minks and his family moved to New York in 2004 following four years in London, where created and led a regional corporate business across 18 countries. Prior to London John lived in Southern California with his family and enjoyed the Southern California lifestyle. Mr. Minks' previous work experience includes five years with Smith Barney Corporate Finance and five years with Deloitte as a management consultant. John received an MBA from the Anderson Graduate School of Management at UCLA, and his BA from Stanford University
Mr. Minks and his wife Michelle live in Rye Brook New York, and have three grown children. In his free time he enjoys golf and travel and spending time with his family.