Ellen R. Dulberger
Board Member
"Higher education of incarcerated men and women can help break the cycle of poverty and crime. I see Hudson Link scaling up to provide college education for many more incarcerated men and women, and good outcomes for released alumni and their families and communities."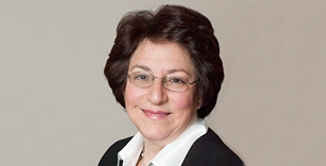 Ellen R. Dulberger was introduced to HL through Catch-a-fire, an organization that matches not-for-profits with professionals whose expertise is needed for a specific project. She helped Hudson Link develop and refine our vision and mission statement. Ellen also assisted Hudson Link with getting support from strategy consultants, and a grant from IBM. She shares the vision and believes that Hudson Link provides a very valuable service to individuals and society. She joined the Board in early 2014.
Ms. Dulberger is Managing Partner of Ellen Dulberger Enterprises, LLC, a consulting practice focused on economics, strategy and risk management, particularly applied to challenges in which information technology is a factor.
Prior to starting her consulting company, Ellen had responsibility for designing and implementing IBM's Enterprise Risk Management program.
Ms. Dulberger's earlier experience includes strategy development roles which identified non-traditional opportunities and approaches to pursuing them. One example evolved into Cloud Computing.
The first half of Ms. Dulberger's career was dedicated to economic analysis including innovative work on price measurement that improved demand forecasts for the company's products, and was adopted by the U.S. Department of Commerce to improve measures of investment in the U.S.
Ms. Dulberger earned a bachelor's degree in economics from Queens College, CUNY (1974) and then a Ph.D in Economics (1986) from The Graduate Center, CUNY with fields of specialty in human resource economics and international trade.