Christian French
Board President
"Our graduates develop a greater understanding of their role in society, the impact of their actions and their responsibility to leave this world a better place."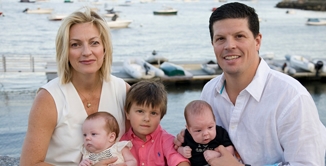 Christian French helps to guide the vision and strategic direction of the organization and ensure that the board of directors and its members fulfill their governance responsibilities.
Mr. French joined the Hudson Link family in 2004 after attending their annual Spring Benefit Dinner at the Supper Club and meeting several Hudson Link alumni who, through the help of Hudson Link, transformed their lives.
Mr. French has stated that his hope is that "the incredible success we have developed in Sing Sing, Fishkill and Sullivan Correctional Facilities can be spread to all qualified candidates in the prisons throughout the state and country. It takes hard work, self-examination and dedication to graduate with a degree from our program and if there are people who are willing to rehabilitate themselves through education, our society needs to find a way to support it.
Some would say that Hudson Link's greatest accomplishment is its 0% recidivism rate, but I think that really undervalues the impact Hudson Link has on individuals and their surrounding community. As a result of our program, our graduates self esteem changes – they develop a belief in their ability to lead by example and they develop a greater understanding of their role in society, the impact of their actions and their responsibility to leave this world a better place."
Mr. French earned his Bachelor of Science degree from Cornell University's School of Hotel Administration and is Chief Operating Officer of WRNN-TV Associates, owner of the Regional News Network (RNN), a local, independent television station in New York. He has spent the last ten years establishing RNN as a media competitor in the New York market, growing its distribution from 300,000 cable homes to now over 5 million homes including all five boroughs of New York City. In September of 2005, he completed construction of RNN's 5th facility, a brand new all-digital production center and studios in Rye Brook, NY.
Mr. French is a board member of the Spectrum Clearing alliance and the Broadcasters Digital Cooperative; is a Rockefeller Fellow for the Partnership of New York City and volunteers with the Juvenile Diabetes Research Foundation. He and his lovely wife Sharon live in Westchester with their three children: Connor, Madison and Maximus.