Annette Johnson
Board Member
"Prison education is breaking the cycle of poverty in more ways than one. It leapfrogs to the next generation and changes the children as well as the fathers."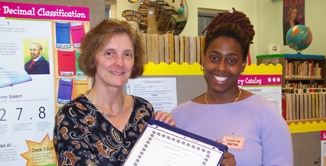 Annette Johnson has been a supporter of Hudson Link for many years and joined the Board of Directors in 2010. She is a strong voice for a prison system that is truly rehabilitative, and sees Hudson Link and prison education work as a vehicle to that end. Her motivation comes from the evidence of transformation seen at every Hudson Link graduation ceremony, and with each individual released: "seeing the families of the people who graduate, and the pride of their children inspires me."
Ms. Johnson has been active in prison education programs since 1999, primarily as the founder and director of Prisoners Reading Encouragement Project, which, in cooperation with New York State Department of Correctional Services, provides books and educational materials at no cost to New York State correctional facilities. She also serves many other organizations implementing innovative and needed educational programs in New York State prisons. She is an active sponsor and supporter of Literacy for Incarcerated Teens, and the Learning Center for Women in Prison at Bayview Correctional Facility.
Her dedication and commitment also extends as a member of the board of Citizens United for the Rehabilitation of Errants (CURE-NY) for many years; a grassroots advocacy organization focusing on criminal justice reform and rehabilitative measures for those involved with the criminal legal system such as education, training and treatment. As if her resume could not grow any stronger, she also serves as a member of the Board of Directors for Prison Policy Initiative; which documents the impact of mass incarceration on individuals, communities, and the national welfare in order to empower the public to improve criminal justice policy.
Ms. Johnson currently serves as Senior Vice President, Vice Dean and General Counsel at NYU Langone Medical Center and oversees all legal matters concerning the medical center including providing leadership to the Office of Audit and Compliance, the Institutional Review Board and the Office of Government Affairs, all of which report to her.
Ms. Johnson received her B.A.from Incarnate Word College, her Ph.D. from the University of Massachusetts, and her J.D. from the University of Toledo, College of Law. Following law school and prior to joining the New York University Office of General Counsel, Ms. Johnson was Assistant Dean and Associate Professor of Law at the University of Toledo, College of Law, and briefly served as an Assistant Attorney General in the New York State Attorney General's office.