Gregory
"You can learn a lot of things academically in prison, but family is the hardest thing to readjust to on the outside. Sean and Hudson Link have been family to me when I had none. They have taught me how to become part of a family."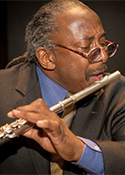 Master of Professional Studies: New York Theological Seminary
Master of Fine Arts: Pratt Institute
Bachelor of Science in Organizational Management: Nyack College
Gregory knows the value of family, since his own childhood was less than ideal. "My family was displaced, and I kept getting shifted around. I went to 14 different schools in 12 years," he recalls.
"I never spent more than two years in a row in the same place until I went to prison."
Arrested in 1986, Gregory did 27 years behind bars and spent most of it obtaining an education.
"I didn't think I was going to get out," Gregory says about his decision to start college behind bars.
"When the opportunity came up to go school, it was something to do every night. Learning always came easily to me, and there was no television when I was growing up. Reading was my escape." An artist and educational consultant by trade, Gregory read over 15,000 books during his time in prison. He was in Hudson Link's first graduating class of 2001 with Executive Director Sean Pica, and was the only graduate to return to Sing Sing as an instructor a few years after his release.
"It was hard," he remembers about going back to the place where he spent nearly three decades of his life. "I knew I wanted to help others through education the way I had been helped, but every corner held a nightmare."
Gregory has been home ten years now and sometimes, he says it feels like "just last week" that he was released. He is working hard to strengthen his relationships with his son and two daughters. He has one grandson who is a graduate of Georgetown University, and three others who are graduating high school and plan to follow in their
grandfather's footsteps by attending college.
"I'm closest to my son now – I was reunited with him after 24 years by a guard at Sing Sing while I was still inside," Gregory said. "And my daughter is the most stable person I've ever met."
He credits the education and re-entry support he receives from Hudson Link and its staff for helping him rebuild his life from the inside out. "You can learn a lot of things academically in prison, but family is the hardest thing to readjust to on the outside," he said. "Sean and Hudson Link have been family to me when I had none. They have taught me how to become part of a family."