Sing Sing Correctional Facility
Sing Sing and Hudson Link have joined forces to sponsor an associate and Bachelor's degrees in Behavioral Science.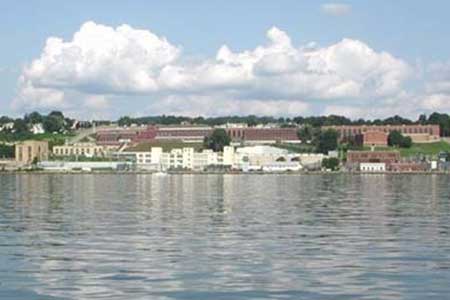 About Sing Sing Correctional Facility
Sing Sing Correctional Facility in Ossining, New York is a maximum security prison for men operated by the New York State Department of Corrections and Community Supervision (DOCCS). The facility houses approximately 1,750 inmates. Sing Sing is the second oldest prison in New York State and is located about 30 miles north of New York City on the bank of the Hudson River.
Volunteers are an integral part of programming at Sing Sing, approximately 1,000 volunteers enter the prison annually to help facilitate educational, music and religious programs. DOCCS policy mandates that inmates who do not have a GED earn one while incarcerated in a New York State correctional facility. To help the men obtain their GED, Sing Sing offers classes in Pre-General Equivalency Diploma (Pre-GED), General Equivalency Diploma (GED) and English as a Second Language (ESL).
Sing Sing is the only correctional facility in New York State to offer associate, Bachelor's and Master's degree programs. Hudson Link for Higher Education in Prison sponsors an Associate and Bachelor's degree in Behavioral Science through Mercy College and the New York Theological Seminary sponsors a Master's degree in Professional Studies.